Symantec.cloud Endpoint Protection for your Business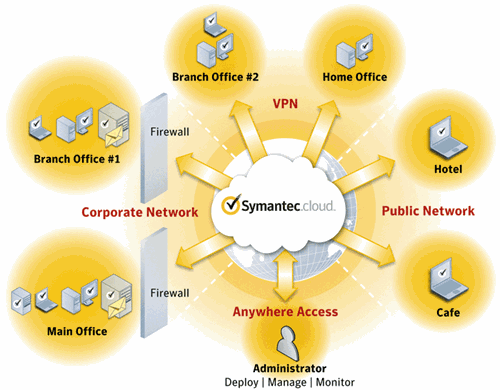 Symantec Endpoint Protection.cloud is a part of Symantec.cloud
- Designed specifically for SMB businesses
- Centrally managed security for desktops, laptops and file servers
- Automatic system security updates
Trying to stay current of evolving security requirements and keeping your company desktops, laptops and servers secure is a time consuming challenge.
Symantec Endpoint Protection.cloud helps to address this by offering a comprehensive cloud based security solution designed to meet the needs of small to medium businesses. Protecting your endpoint systems including desktops, laptops and file servers, with advanced technologies for antivirus, antispyware, firewall, and host intrusion prevention. Further more Endpoint Protection.cloud enables you to manage security requirements via a single Web-based console and does not require additional hardware or management software.
With Endpoint Protection.cloud, automatic security updates occur transparently over an Internet connection, enabling employee systems to stay current whether workers are in the office or on the road. The service leverages the Symantec Global Intelligence Network, one of the largest security research networks in the world, and benefits from the network's rapid threat identification and response.
Simple to set up and easy to use, Endpoint Protection.cloud offers advanced security, lower maintenance costs, and predictable subscription fees that can reduce up front expenses.
How Symantec Endpoint Protection.cloud works? 
Endpoint Protection.cloud offers businesses a simple, cost-effective solution for endpoint security that does not require additional management software, hardware or dedicated IT resources.
Here is a short summary of how the service is set up and used:
- Log on to Web-based management console.
- Deploy agent to individual endpoints or silently push the solution to the network.
- Upon installation, the default policy is enabled for the agent to include Symantec's standard antivirus, antispyware, firewall, and host intrusion prevention.
- After the install, agent proactively refreshes the latest security definitions and updates.
- Administrator can use management console to set custom policies and push to all endpoints in the network.
- Administrator can use management console for ongoing maintenance including deploying new endpoints, viewing status, managing remote clients.